Speaker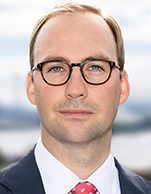 Constantin Baack
CEO
MPC Container Ships ASA

Mr. Constantin Baack serves as CEO of MPC Container Ships ASA ("MPCC") since foundation of the company in 2017. Today, MPCC owns a fleet of 66 container ships, which are operated globally, predominantly in regional trades and/or feeder services.

Mr. Baack started his career in the marine operations department at Hamburg Süd in Sydney. He thereafter moved to Ernst & Young within auditing and transaction advisory out of Hamburg and Shanghai. In 2008, Mr. Baack joined the MPC Group where he has since held various senior management positions in Germany and abroad, including Head of Shipping of the MPC Group, Managing Director of ship management company Ahrenkiel Steamship and CFO of Frankfurt-listed asset and investment manager MPC Capital AG.

Mr. Baack studied business administration in Hamburg and Sydney. He holds a Graduate Diploma and a Master of Science in international business from the University of Sydney.