Deep Dive into TEN & the Tanker Sector

Thursday, July 16, 2020, 11:00 AM ET
DURATION: 40 MINUTES FOLLOWED BY Q&A SESSION
LISTEN TO OUR EXPERT PRESENTERS LIVE FROM YOUR OWN DESK
Presented by

This in-depth discussion will focus on three main verticals:

a. TEN's development, strategy, market positioning and competitive advantages.

b. The tanker market – with main focus on the crude and product markets, as well as on the LNG market – market trends and fundamentals, supply & demand, orderbook, sector outlook.

c. Industry issues – regulation, technology, environmental issues, ship safety & security and more. As the CEO of one of the major independent tanker owners and Chairman of INTERTANKO 2014-2018, Dr. Tsakos has deep insight on the industry's direction and outlook.
Download Presentation
One-on-One Discussion between: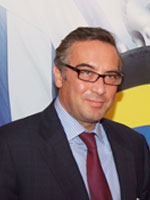 Dr. Nikolas P. Tsakos
Founder and Chief Executive Officer, TEN LTD (NYSE:TNP), Chairman, Intertanko 2014-2018
https://www.tenn.gr/
Dr. Nikolas P. Tsakos is the Founder and Chief Executive Officer of Tsakos Energy Navigation (TEN), a pioneering shipping company, established 26 years ago and quoted on the New York Stock Exchange. He comes from a traditional Chios seafaring family and has extensive seagoing experience, having also served as an Officer in the Greek Navy. Mr. Tsakos was the Chairman of INTERTANKO from 2014 to 2018 and the former President of the environmental organisation "HELMEPA". He sits on the boards of a number of maritime and finance organisations and associations. Nikolas graduated from Columbia University in New York with a degree in Economics and Political Science and obtained a Master's Degree in Shipping, Trade and Finance from London's City University Business School (CASS). In 2011, he was awarded an honorary doctorate from City University, for his pioneering work in the equity financial markets relating to shipping companies. He is married and has three children.
Randy Giveans
Group Head of Energy Maritime Shipping Equity Research, Jefferies
https://www.jefferies.com/
Randy Giveans is the Senior Analyst and Group Head of Energy Maritime Shipping Equity Research and a Vice President at Jefferies. He currently covers 27 energy maritime shipping companies that transport crude oil, refined petroleum products, LNG, LPG, dry bulk commodities, and containers. Prior to joining Jefferies in 2011, Randy worked as a Senior Financial Analyst in the Corporate Finance department at Continental/United Airlines. Mr. Giveans received a Bachelor of Science in Finance/Economics from Spring Hill College and an MBA in Finance with an Energy Specialization from the Freeman School of Business at Tulane University.

WEBINAR STRUCTURE

The webinar will consist of a 40-minute expert discussion, which will be followed by a Q&A lasting for 15 minutes. This webinar will be archived and available for replay upon registration.

Q&A SESSION - Submitting Questions

Participants can submit questions to the panelists prior to or during the event through the special feature on the event page, or they can email them to us at questions@capitallink.com.



Achieve Maximum Visibility as the Exclusive Presenter/Sponsor of a Capital Link Webinar
When was the last time you were able to talk to a global audience about your company's products and services? We can help you do that with one of our cost-effective, high-return Webinars.
The Capital Link Shipping Webinar Series provides numerous live and on-demand playback investor webinars that are focused on topics of contemporary interest in the industry. As a sponsor of one of these webinars, your company will provide updates and enlightenment on issues of importance while aligning your organization with the interests of our audience. Sponsors of these webinars will receive brand recognition and exposure as well as the ability to offer a white paper or PowerPoint presentation at registration to webcast attendees so as to generate leads.

For more information on webinar sponsorship opportunities, please email forum@capitallink.com or call +1 212 661-7566.
Capital Link - New York - London - Athens
230 Park Avenue - Suite 1536 - NY - New York 10169, USA - Tel.: +1 212 661 7566 - Fax: +1 212 661 7526
Longcroft House,2-8 Victoria Ave, London, EC2M 4NS, U.K - Tel. +44(0) 203 206 1320 - Fax. +44(0) 203 206 1321
40, Agiou Konstantinou Str, Suite A 5, 151-24 Athens, Greece - Tel. +30 210 6109 800 - Fax +30 210 6109 801

www.capitallink.com - www.capitallinkshipping.com - www.capitallinkportals.com
www.capitallinkforum.com - www.capitallinkwebinars.com