Deep Dive Into d'Amico International Shipping & the Product Tanker Sector

Monday, October 19, 2020
DURATION: 40 MINUTES
LISTEN TO OUR EXPERT PRESENTERS LIVE FROM YOUR OWN DESK
Presented by

This in-depth discussion will focus on three main verticals:

• d'Amico International Shipping' s development, strategy, market positioning and competitive advantages.

• The product tanker market – market trends and fundamentals, supply & demand, orderbook, sector outlook.

• Industry issues – regulation, technology, environmental issues, ship safety & security and more. As the CEO of one of the major independent product tanker owners and Chairman of INTERTANKO 2018-Present, has deep insight on the industry's direction and outlook.
One-on-One Discussion between: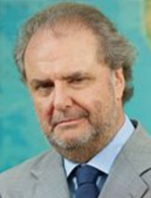 Paolo d'Amico
Chairman, INTERTANKO; Executive Chairman & CEO, d'Amico International Shipping S.A. (BIT:DIS)
About d'Amico International Shipping S.A.
d'Amico International Shipping S.A. is a subsidiary of d'Amico Società di Navigazione S.p.A., one of the world's leading privately-owned marine transportation companies, and operates in the product tankers sector, comprising vessels that typically carry refined petroleum products, chemical and vegetable oils. d'Amico International Shipping S.A. controls, through its fully-owned subsidiary, d'Amico Tankers D.A.C., Dublin, either through ownership or charter arrangements, a modern and double-hulled fleet, ranging from 35,000 to 75,000 deadweight tons. The Company has a long history of family enterprise and a worldwide presence with offices in key maritime centers (London, Dublin, Monaco, Stamford and Singapore). The Company's shares are listed on the Milan Stock Exchange under the ticker symbol "DIS.MI".

http://investorrelations.damicointernationalshipping.com/en/home-page/index

For d'Amico International Shipping S.A. latest presentation please click here
Webinar Structure
The webinar will consist of a 40-minute expert discussion. This webinar is archived and available for replay upon registration.

Achieve Maximum Visibility as the Exclusive Presenter/Sponsor of a Capital Link Webinar
When was the last time you were able to talk to a global audience about your company's products and services? We can help you do that with one of our cost-effective, high-return Webinars.
The Capital Link Shipping Webinar Series provides numerous live and on-demand playback investor webinars that are focused on topics of contemporary interest in the industry. As a sponsor of one of these webinars, your company will provide updates and enlightenment on issues of importance while aligning your organization with the interests of our audience. Sponsors of these webinars will receive brand recognition and exposure as well as the ability to offer a white paper or PowerPoint presentation at registration to webcast attendees so as to generate leads.

For more information on webinar sponsorship opportunities, please email forum@capitallink.com or call +1 212 661-7566.
Capital Link - New York - London - Athens
230 Park Avenue - Suite 1536 - NY - New York 10169, USA - Tel.: +1 212 661 7566 - Fax: +1 212 661 7526
10 Lower Grosvenor Place, London, SW1W 0EN, United Kingdom - Tel: +44 795 626 2380
40, Agiou Konstantinou Str, Suite A 5, 151-24 Athens, Greece - Tel. +30 210 6109 800 - Fax +30 210 6109 801

www.capitallink.com - www.capitallinkshipping.com - www.capitallinkportals.com
www.capitallinkforum.com - www.capitallinkwebinars.com