DURATION: 30 MINUTES FOLLOWED BY Q&A SESSION
LISTEN TO OUR EXPERTS LIVE FROM YOUR OWN DESK
Presented by

Draft new mandatory regulations to cut the carbon intensity of existing ships were approved on November 20, 2020 by the International Maritime Organization (IMO) Marine Environment Protection Committee (MEPC).

In essence, they will require the world's existing fleet to match at least the efficiency standards of newbuildings. These draft amendments will be circulated among IMO member states in view of their adoption in June 2021 (MEPC 76) with the expectation to enter into force by 2023.

These are deemed to be in line with the ambition of the 2018-adopted initial IMO Green House Gas (GHG) Strategy to reduce carbon intensity of international shipping by 40% by 2030, compared to 2008.

Proposed amendments to the MARPOL convention would require ships to combine a technical and an operational approach to reduce their carbon intensity.

The technical requirement to reduce carbon intensity is based on a new Energy Efficiency Existing Ship Index (EEXI) whose standards will be largely equivalent to the current Energy Efficiency Design Index (EEDI) for newbuild ships.

The operational carbon intensity reduction requirements are based on a new operational Carbon Intensity Indicator (CII) rating ships for fuel efficiency between A and E, with ships rated D and below falling under the minimum standard. This dual approach aims to address both technical (how the ship is retrofitted and equipped) and operational measures (how the ship operates).

Finally, there is a mandatory Ship Energy Efficiency Management Plan (SEEMP) for all ships. The SEEMP provides for ship operators to have in place a plan to improve energy efficiency through a variety of ship specific measures. Compliance with the SEEMP will be monitored.

Roel Hoenders, Acting Head of Air Pollution and Energy Efficiency of IMO's Marine Environment Division will take us through all the details of the recently agreed measures to reduce carbon emission by 2030.

After a half hour slide presentation, there will be a Q&A session for another half hour plus, where participants can submit their questions live.
Speaker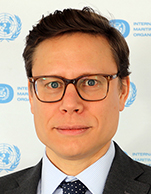 Roel Henders
Acting Head of Air Pollution and Energy Efficiency, Marine Environment Division, International Maritime Organization (IMO)
Mr. Roel Hoenders is currently acting as Head of the Air Pollution and Energy Efficiency team in the Marine Environment Division of the IMO Secretariat. He is responsible for IMO's regulatory agenda on the reduction of atmospheric pollution from ships in line with MARPOL Annex VI and the implementation of IMO's Initial Strategy on reduction of Greenhouse Gas (GHG) emissions from ships.

Roel holds a law degree, with specializations in international environmental and maritime law, complemented by postgraduate studies in environmental sciences and business sustainability.

Prior to joining the IMO Secretariat, Mr. Hoenders worked as legal expert and policy officer on defining EU clean air and renewable energy policies in the Directorate-General for Environment of the European Commission and on promoting sustainable shipping in the environment department of the European Maritime Safety Agency (EMSA). In earlier functions at the European Sea Ports Organization (ESPO) and DHL Netherlands he advised on corporate climate and sustainability strategies.

WEBINAR STRUCTURE

The webinar will consist of a 30-minute expert discussion, which will be followed by a Q&A lasting for 30 minutes. This webinar will be archived and available for replay upon registration.

Q&A SESSION - Submitting Questions

Participants can submit questions to the panelists prior to or during the event through the special feature on the event page, or they can email them to us at questions@capitallink.com.


Achieve Maximum Visibility as the Exclusive Presenter/Sponsor of a Capital Link Webinar
When was the last time you were able to talk to a global audience about your company's products and services? We can help you do that with one of our cost-effective, high-return Webinars.
The Capital Link Shipping Webinar Series provides numerous live and on-demand playback investor webinars that are focused on topics of contemporary interest in the industry. As a sponsor of one of these webinars, your company will provide updates and enlightenment on issues of importance while aligning your organization with the interests of our audience. Sponsors of these webinars will receive brand recognition and exposure as well as the ability to offer a white paper or PowerPoint presentation at registration to webcast attendees so as to generate leads.

For more information on webinar sponsorship opportunities, please email forum@capitallink.com or call +1 212 661-7566.
Capital Link - New York - London - Athens
230 Park Avenue - Suite 1536 - NY - New York 10169, USA - Tel.: +1 212 661 7566 - Fax: +1 212 661 7526
10 Lower Grosvenor Place, London, SW1W 0EN, U.K - Tel. +44(0) 795 626 2380 - Fax. +44(0) 203 206 1321
40, Agiou Konstantinou Str, Suite A 5, 151-24 Athens, Greece - Tel. +30 210 6109 800 - Fax +30 210 6109 801

www.capitallink.com - www.capitallinkshipping.com - www.capitallinkportals.com
www.capitallinkforum.com - www.capitallinkwebinars.com