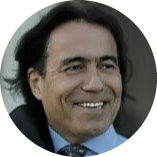 FREDERICK BENDLE
Chairman - INATECH'
Fred Bendle was appointed as Non-executive Chairman in April 2012. Fred has been Chief Financial Officer of Chemoil since August 2012.
Prior to his current appointment, Fred was head of the Chemoil back office service company "CAMS" and then as Chief Executive Officer of Calsoft and as a Director of Chemoil-Adani Pte. Ltd.
Prior to joining Chemoil, he has held a number of senior roles for Glencore including Project Director for the multi-billion dollar "Cartagena Refinery Expansion Project" in Colombia, CFO of the Fujairah Refinery Company in the UAE and the Lisichansk Refinery in Ukraine.
He also represented Glencore in the acquisition and management of oil production assets in Russia and West Africa. Prior to Glencore, he has spent three years with Kuwait Petroleum Limited as CFO of oil exploration and production operations in Egypt and Tunisia and was previously CFO of a London listed oil exploration company and CFO of a Canadian listed oil services group.
Fred is a graduate in Law and has been a member of The Institute of Chartered Accountants of England and Wales since 1982.