CEOs of Euronav, Frontline & Tsakos Energy Navigation to Discuss Developments & Outlook of the Tanker Shipping Sector
PRESENTED BY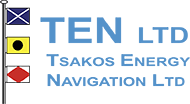 TUESDAY, JANUARY 26, 2016, 11:00 AM ET



4:00 PM LONDON | 5:00 PM PARIS | 6:00 PM ATHENS | 11:00 PM HONG KONG

DURATION: 40 MINUTES FOLLOWED BY Q&A SESSION

LISTEN TO OUR EXPERT PRESENTERS LIVE FROM YOUR OWN DESK

PANEL STRUCTURE - TOPICS TO BE COVERED

The focus of the discussion (and the Q&A) will be only on sector trends and fundamentals, and not on company specifics or company recommendations. The discussion will cover mainly four topics:
the development of the global crude oil market and the effect of lower oil prices on tanker shipping;
tanker demand and supply;
freight rates and asset values;
valuations, focusing on current trends and the sector's outlook.


The discussion will focus primarily on the crude oil shipping sector.
INTRODUCTORY REMARKS BY

Nicolas Bornozis, President, Capital Link, Inc.
MODERATED BY



Michael Webber
Senior Analyst, Director Shipping, Equipment Leasing & Marine MLPs Equity Research
Wells Fargo Securities, LLC
FEATURED PANELISTS


Paddy Rogers
CEO
Euronav NV (NYSE & Euronext: EURN)


Robert Hvide Macleod
CEO
Frontline Ltd (NYSE & OSE:FRO)


Dr. Nikolas P. Tsakos
President & CEO
Tsakos Energy Navigation Ltd. (NYSE: TNP)

WEBINAR STRUCTURE


The webinar will consist of a roundtable discussion with the moderator and the panelists. It will last for a total of one hour. 45 minutes will be allotted for the panel discussion, which will be followed by a 15-minute Q&A session. This webinar will be archived and available for replay upon registration.
Q&A SESSIONS - Submitting Questions

Participants can submit questions to the panelists prior to or during the event through the special feature on the event page, or they can email them to us at questions@CapitalLinkWebinars.com. Questions should be sector focused rather than company specific.
ABOUT TANKER SHIPPING

A principal function of the tanker sector is to transport crude oil from oil production and export facilities to oil terminals, storage facilities, pipeline systems and oil refineries internationally (Crude Oil Tankers). In addition, tankers are also involved in the carriage of refined petroleum products, such as gasoline, diesel, jet fuel and naphtha, from refineries to storage and distribution systems, industrial plants and other consumers (Product Tankers). Tankers generally are a more cost-effective alternative to pipelines and their advantages increase over distance. Pipelines are also considered to be more vulnerable to political instability, sabotage, economic blockade and the risk of environmental disaster.

There are two principal types of providers of international seaborne transportation services for crude oil and refined petroleum products: independent shipowners and end users, such as oil, energy, petrochemical and trading companies (both private and state-owned). Tonnage controlled by end users is primarily chartered from independent shipowners under short-term spot market contracts and long-term time charters, with the balance being directly owned. The prices for transporting crude oil and refined petroleum products, which are referred to as tanker charter rates, are set in highly competitive markets in which both independent and end-user tonnage participate.

Vessels in the tanker fleet can be divided into categories based on their size in deadweight tons, or dwt, which is a vessel's capacity for cargo, fuel, oil, stores and crew measured in metric tons (1,000 kilograms). The following are the main categories of tankers based on dwt: (1) Very Large Crude Carriers (VLCCs) -- tankers with capacity of 200,000 dwt and over; (2) Suezmax tankers - tankers with capacity ranging from 120,000 to 200,000 dwt; (3) Aframax tankers - tankers with capacity ranging from 80,000 to 120,000 dwt; (4) Panamax tankers - tankers with capacity ranging from 60,000 to 80,000 dwt; (5) Medium Range tankers (MR) - tankers with capacity ranging from 25,000 to 60,000 dwt, and (6) Small tankers - tankers with capacity up to 26,999 dwt. A 300,000 dwt tanker can carry 2 million barrels of crude oil, while a Suezmax can carry about 1million barrels and an Aframax between up to about 800,000 barrels.

Tankers that transport refined petroleum products are referred to as products tankers. Products tankers generally range in size from 10,000 to 80,000 dwt, although there are some larger products tankers designed for niche long-haul trades, such as from the Middle East to Japan, Korea and South East Asia. Products tankers generally have cargo-handling systems that are designed to transport several different grades of refined petroleum products simultaneously. These systems include coated cargo tanks that facilitate cleaning between voyages involving different cargoes.

Ice Class tankers are vessels that have been constructed (in compliance with Finnish-Swedish Ice Class Rules) with strengthened hulls, a sufficient level of propulsive power for transit through ice-covered routes and specialized machinery and equipment for cold climates. .
ABOUT EURONAV (NYSE & EURONEXT: EURN)

Euronav is an independent tanker company engaged in the ocean transportation and storage of crude oil and petroleum products. The Company is headquartered in Antwerp, Belgium, and has offices throughout Europe and Asia. Euronav is listed on Euronext Brussels and on the NYSE under the symbol "EURN". Euronav employs its fleet both on the spot and period market. VLCCs on the spot market are traded in the Tankers International pool of which Euronav is one of the major partners. Euronav's owned and operated fleet consists of 56 double hulled vessels being one V-Plus vessel, 28 VLCCs (of which 1 in 50%-50% joint venture), three VLCCs under construction which were recently acquired as resales of existing newbuilding contracts, 22 Suezmaxes (of which four are owned in 50%-50% joint ventures) and two FSO vessels (both owned in 50%-50% joint venture). The Company's vessels mainly fly Belgian, Greek, French and Marshall Island flags.
ABOUT FRONTLINE LTD. (NYSE & OSE: FRO)

Frontline Ltd. (the "Company") is a world leader in the seaborne transportation of crude oil and refined products. The Company's diversified fleet of vessels within the VLCC, Suezmax, Aframax/LR2, and MR segments is the largest among U.S. listed tanker companies by carrying capacity. Due to Frontline's brand, financial flexibility, and significant scale, it holds a unique position among its peers. The Company has a long history of executing strategic transactions and returning value to shareholders through dividends and spin-offs. Frontline is listed on both the New York and Oslo Stock Exchanges under the symbol "FRO."
ABOUT TSAKOS ENERGY NAVIGATION (NYSE: TNP)

To date, TEN's fleet, including two VLCCs, an LNG carrier, nine Aframax crude oil tankers, a Suezmax DP2 shuttle tanker and two LR1 tankers all under construction, consists of 65 double-hull vessels, a mix of crude tankers, product tankers and LNG carriers, totalling 7.2 million dwt. Of these, 47 vessels trade in crude, 13 in products, Visit our company website at: http://www.tenn.gr 2 three are shuttle tankers and two are LNG carriers. In addition, TEN has an option to construct another Suezmax DP2 shuttle tanker. All of TEN's tanker newbuildings except the two VLCCs and the LNG carrier Maria Energy are fixed on long-term project businesses. TEN is listed on the New York Stock Exchnage under the ticker symbol "TNP".
ABOUT CAPITAL LINK, INC.



Capital Link is an Advisory, Investor Relations and Financial Communications firm with strategic focus, among other, on the maritime industry working with the many sector companies listed on the U.S. and European Exchanges. Capital Link's headquarters are in New York with a presence in London, Athens and Oslo. It is a member of the Baltic Exchange. In our effort to enhance the information flow to the investment community and improve investor knowledge of shipping, Capital Link has undertaken a series of initiatives beyond the traditional scope of our investor relations activity through our websites, weekly newsletters, webinars, investor forums in New York, London, Athens and Shanghai, and the Capital Link Maritime Indices.


Capital Link - New York - London - Athens - Oslo
230 Park Avenue - Suite 1536 - NY - New York 10169, USA - Tel.: +1 212 661 7566 - Fax: +1 212 661 7526
Longcroft House,2-8 Victoria Ave, London, EC2M 4NS, U.K - Tel. +44(0) 203 206 1320 - Fax. +44(0) 203 206 1321
40, Agiou Konstantinou Str, Suite A 5, 151-24 Athens, Greece - Tel. +30 210 6109 800 - Fax +30 210 6109 801


Raadhusgaten 25 P.O.Box 1904 Vika N-0116 Oslo, Norway