| | |
| --- | --- |
| | Powered by |
| | |
WEBINAR PRESENTATION
Access EY's Presentation
Greece, leveraging its strategic geographical location, along with increasing investment in upgrading its transportation and logistics infrastructure, has gone a long way toward developing its position as a global logistics hub, over the past years. However, there is still room for improvement for the country to achieve "excellence". The second edition of EY's report, "Greece: International Freight Center", examines the role of Greece as a competitive intermodal corridor for the European seaborne trade with Asia.
EY presents a series of area-specific recommended actions, with regards to the ports, the road network, the third-party logistics sector, air and sea freight transport, the rail network, the customs, the human capital in the transport and logistics industry, as well as the brand awareness of Greece as "an international freight center".
The webinar showcases the multi-faceted aspects of the dynamics the Greek transport and logistics industry can capitalize on and make the most of the country's biggest competitive advantage – its strategic geographical location.
July 8, 2021
Duration 90 minutes
Athens time
London time
US Eastern time
17:00 - 17:05pm
15:00 - 15:05pm
10:00 - 10:05am
Welcome
17:05 - 17:15pm
15:05 - 15:15pm
10:05 - 10:15am
Presentation
17:15 - 17:30pm
15:15 - 15:30pm
10:15 - 10:30am
Minister Keynote Speech
17:30 - 18:15pm
15:30 - 16:15pm
10:30 - 11:15am
Panel discussion
18:15 - 18:30pm
16:15 - 16:30pm
11:15 - 11:30am
Q&A Session
Welcome Remarks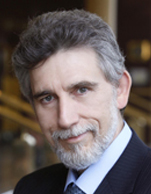 Mr. Nicolas Bornozis President

-

Capital Link, Inc.

http://www.capitallink.com

Since 1996 Mr. Nicolas Bornozis is the founder, President and CEO of Capital Link, Inc., an international investor relations and financial advisory group. It assists listed companies and capital markets related organizations to develop and maintain access to European and North American investors. Capital Link has offices in New York, London and Athens and is a leader in investor relations for listed shipping companies, U.S. Closed-End Funds and ETFs and international companies accessing the U.S. and European markets.

He also established and managed, Alexander Capital, L.P, a US broker-dealer firm, which developed brokerage and investment banking business in North America with the Greek, Egyptian and Russian markets. Sold the company at the end of 2003 to a group of US investors representing Russian interests. Between 1998 and 2002, he also established and managed Alexander Asset Management, Inc. which handled portfolios invested in the Greek and European equity markets.

Prior to Capital Link (1988-1995), he served as President and CEO of CCF International Finance Corp. (CCF IFC), the US broker/dealer subsidiary of Credit Commercial de France, now part of HSBC, and worked at the International Department of Bankers Trust Company in New York (1982-1984) and then at the Commercial Banking operation of CCF in New York (1985-1987) focusing on the financing of Wall Street firms and shipping.

He holds an MBA from Harvard Business School (1982) and a Law Degree from the University of Athens (1979), in Greece with specialization in commercial and corporate law and is a graduate of Athens College in Greece.

For a period of twelve years he was a Visiting Lecturer on International Banking and Finance at the City University Business School (Department for Shipping Trade and Finance) in London, United Kingdom. Also, he served as Chairman of the Investment Management Committee of the Harvard Business School Club in New York.
Presentation of the key findings of the study on 'Greece: International Freight Center'

Mr. Thanos Mavros Partner

-

EY Greece and EY Central, Eastern and Southeastern Europe & Central Asia (CESA) Supply Chain & Operations Leader

https://www.ey.com/en_us

Background
Thanos is a Partner at EY Greece and is EY's Head of Supply Chain & Operations for Greece and the Central, Eastern and Southeastern Europe & Central Asia (CESA) region. He also serves as EY's cross service lines Consumer Products & Retail Sector Leader in South East Cluster
He has over 30 years in management consulting and has participated in large SC transformation projects in private companies and public organizations
He joined EY in July 2014, and, prior to that, he was Senior Partner and Managing Director of a leading niche regional consultancy firm operating in Southeast Europe
Thanos is an Economist (BA in Economics from Jersey City State University,- USA) and holds a M.Sc. in Industrial Engineering from the Engineering School of N.Y.U (USA)
He is a Certified Trainer from British Association for Commercial & Industrial Education (BACIE) & holds a Special Degree in Human Resources Development & Training from British Institute of Training & Development (ITD)
He is an ex-Chairman of Honor of Managements Consultants Association (member of FEACO) and Chairman of Honor of ECR (Efficient Consumer Response) Cyprus (member of ECR Community) as Chairman of Honor
Competencies
Transportation & Distribution Optimization
Logistics & Fulfilment Optimization
Integrated Supply Chain Operating Model
Cost to Serve Optimization
Route – To – Market
Network Optimization
Supply Chain Network Restructuring
Transport & Logistics Outsourcing
Smart Factory/ Manufacturing Excellence
Sustainable Transport & Logistics
Inventory Optimization
Procurement Excellence
Change Management and Transformational Projects
Professional experience
Survey | Greece: International Freight Center, 2017 (first edition): In this report we examined the role of Greece as a competitive intermodal corridor for the European seaborne trade with Asia. In addition, we present all recent developments in: 1.Greek shipping & maritime logistics industry, 2.Greek hinterland logistics industry, 3.Road freight transport, etc.
Survey | Greece: International Freight Center, 2021 (second edition): Greece, leveraging its strategic geographical location, along with increasing investment in upgrading its transportation and logistics infrastructure, has gone a long way toward developing its position as a global logistics hub, over the past years. However, there is still room for improvement for the country to achieve "excellence". The second edition of EY's report, Greece: International Freight Center, examines the role of Greece as a competitive intermodal corridor for the European seaborne trade with Asia
Survey | ΕΥ Future Consumer Index Greece 2021: The survey of EY Hellas, brings to light a real wealth of information for Greek consumers today, tomorrow and beyond, and highlights clear trends, but also uncertainties and questions about the future. This report examines the views and perceptions of Greek consumers about the pandemic, its effects on daily life and consumer behaviors, as well as their views and expectations for the next period and the return to normalcy.
Survey | Re-positioning Greece as a global maritime capital, 2017: In this report, we examined the role of Greece as a global shipping center and explored how this role can be strengthened in the face of increasing international competition and shifting world trade patterns from West to East. We investigated what makes a country an attractive shipping center, what are the strengths and weaknesses of Greece
Study on the future of shipping in Cyprus ("Department of Merchant Shipping, Ministry of Construction and Works, CY" Project objective is to develop a holistic Strategic Development Plan for the Cyprus Shipping Industry based on the examination and analysis of the present as well as foreseeable future trends and developments in the International Shipping market. The role of Cyprus and how its shipping industry should develop in order to grow and contribute more to the country's economy will also be part of the deliverables.
Deployment of IWS / RTT pathway for a heavy industry Group to drive sustainable manufacturing performance improvement: Engaged in 2 RTT deployments: Steel Pipes line acting as Line Lead co-trainer, and Energy Cables line acting as Line Lead trainer. RTT deployment using EY Catalyst console. Built technical capability on operational level. Focused on the organizational part and on autonomous maintenance through standardization of processes and development of action plans. OEE improvement through line stabilization leading a culture change and eliminating losses. Continuous training of Line Structure teams (Leads and Coaches) following the "Learn – Do – Teach" approach. Leadership on the floor coaching to site leaders in order to develop relevant leadership behaviors and skills.
Application of the IBP - Integrated Business Planning methodology for selected companies of the Viohalco Group: Capture of existing S&OP (Sales & Operations Planning) procedures and evaluate the current situation. Detailed redesign of all the procedures included in the IBP methodology as well as the new organizational structure, specifications & responsibilities of departments that will support the transition to the new operating model. It is based on the S&OP and IBP (Integrated Business Planning) methodology.
Supply Chain Transformation of Assan Aluminyum: Overview of the existing operating model, recording of existing procedures and evaluation of the existing Status. Design of future operating model, analysis of discrepancies, detailed planning of the new organizational structure, specifications & responsibilities of departments, as well as redesign of Supply Chain procedures (Plan - Source - Make - Deliver - Return) at level 4.
Quality Assurance Organization for Leading Steel, Pipes and Cables manufacturer in South Eastern Europe (3 business segments, 8 plants): Organizational Design of Quality Assurance department, Role descriptions - Capability mapping, 23 main procedures were designed at level 3 including Internal Audit, Compliance Audit, Customer Satisfaction Survey, Continuous Subcontractor Assessment, NCRs & CAPA, Complaints Management, Risk Assessment, Change Management etc., Capture of current situation in terms of procedures and deviations from the future possible situation, High level Quality Assurance Architecture, Define the SAP modules to be used - possible alternatives - determine the need for non-SAP tools "
Operational Restructuring in over 15 entities: Fast truck operational assessment in production and warehousing and distribution facilities, raw materials receipts, inventories, logistics & distribution operations, commercial activity, sales network, market benchmarking mapping, evaluation, estimation of potential restructuring initiatives, option analysis
ETVA Industrial Parks SA (Hellenic Fund for Sustainable Development): Recommendation for Industrial Park's optimal use (Agribusiness Case/Logistics Center in terms of products/ services/ logistics engineering parameters). The client is a subsidiary of a major System Bank, with 65% participation and the Greek state holding a 35% stake. Activity of the client is the design, development and use and management of Industrial Areas (Industrial Areas, Industrial and Entrepreneurial Areas, Small Business Parks and Business Parks), 26 in Greece. EY was engaged to advise on the optimal use of a 50,000 m2 industrial plot the client invested in and plans to construct and analysis & evaluate the cold chain potential business opportunity
GAIA OSE (Public service - Property management company): 1.Project objective is to provide pre-feasibility study advisory services for internal Management decision purposes in relation to the preliminary evaluation of the need for upgrading the Greek fleet of vehicles (rolling stock and locomotives) by taking into consideration the new trends of the railway market in Greece, the passenger, as well as the freight transportation needs, 2. Prefeasibility study for the optimal utilization of the company Property in Thessaloniki', with an area of approximately 670,000 sq.m. Objectives of engagement included: Property Analysis (Analysis of Available Information, Property Overview), Market Overview, Real Estate Development Preliminary Study (Development of an indicative economic model, Development Scenarios, Market research on development costs and potential rental incomes Implementation of a cash flow model and drawing of indicative conclusions), High level Socio-economic Impact – Roadmap. Indicative uses examined for the property included: a)Freight Station, b)Freight Center, c) Free trade zone, d)Other combined use, e)Light ManufacturingChipita S.A.: 1. Creation of the centralized planning department by advancing effective processes for plan 2 execute utilizing SAP4Hana/ PPDS-Production planning detailed scheduling, 2 Assuring end to end (e2e) lot traceability (from the receival of raw materials to the delivery of finished goods to fragmented retail) utilizing SAP ECC
Dixons South East Europe Α.Ε.Β.Ε. – Kotsovolos: Reverse Logistics Processes & Service Center Layout Optimization Greece, Central DC Process Optimization Greece, Operational model design and support to the activation of Dixons in the market of Cyprus, Provision of services in relation to the expansion of electrical retailing in Cyprus
Experience in Freight Centers Operational Design: Design of Master Layout, Operational Processes, Transport Flows and Flows of Materials
Transportation Network and Intermodal Facilities Design for Multinational Companies: Master layout and design of the company's regional intermodal distribution center and optimization of its supply chain network. Design of its logistics network and advisory services for the company's intermodal transportation system.
Various 3PL, Transport providers and companies: Develop their growth strategy to penetrate new market segments and expand beyond borders, and led the transformatio0n of their Operating Models in order to optimize performance and support future growth. Led their operational improvement, focusing on operational excellence
Logistics Engineering projects for over 80 entities: Analysis of product characteristics in terms of logistics and definition of unit loads, Design of alternative layouts and selection of optimum one, Detailed internal layout design (primary and secondary areas), Development of warehouse equipment (racks, trucks, automation systems, conveyor belts and sorters) specifications and assessment of proposals, Analysis of operating processes, RFP development and support on procurement process, technical evaluation of solutions that meet requirements, SKUs segmentation based on logistics characteristics and demand profile, define picking area, Organizational Design of the new Warehouse and Distribution Center and development of a Key Performance Indicators (KPIs)
Major Retail Chain Groups - SMART – Sklavenitis / Marinopoulos Achieving Retail Transformation: Support after acquisition among 2 biggest retailers in order to align the Groups Logistics Strategy for the future. EY aim was to assess the above areas and design the Logistics Strategy and network by optimize cost and service level. To approach the objective, we follow explore each area: Supply Chain Strategy, Logistics Network, Transport and Delivery Model, Warehouse infrastructure and DC Operations. The value delivered: Integrated Logistics Operating Model, Cost to Serve deep dive analysis, Transportation model to serve integrated network, Warehouse operating models, Logistics engineering for all warehouses, Formulation of 3PL
Keynote Speaker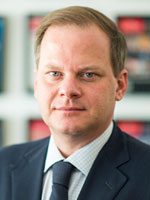 Η.Ε. Mr. Kostas Karamanlis Minister of Infrastructure & Transport

-

- Hellenic Republic

https://www.yme.gr/

Kostas Karamanlis was born in Athens in 1974.

He has studied History and Economics at Hamilton College and earned an MA in Law and Diplomacy from the Fletcher School of Tufts University.

In January 2015 Kostas Karamanalis was elected to parliament with the party of New Democracy, and was re-elected in September 2015 and in July 2019.

From January 2016 since June 2019 he was the shadow minister of the New Democracy Party for Infrastructure and Transport.

After the 2019 election, Mr Karamanlis was appointed Minister for Infrastructure and Transport in the Cabinet of Kyriakos Mitsotakis.

Before getting into politics, he worked from 2002 until 2004 in London for the UBS Warburg Bank. In 2004 he returned to Greece and started working as a chief executive at Mantinia Shipping Company.

He is also a member of the Board of Directors of the "Konstantinos G. Karamanlis" Foundation and of the Board of Overseers of the Fletcher School.
Panel Discussion
Panelists: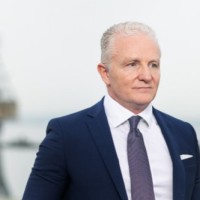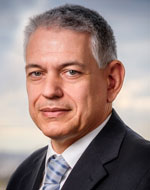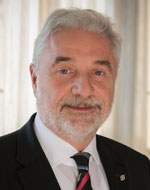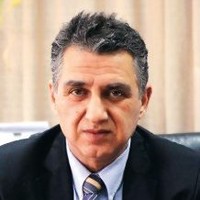 Moderators: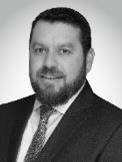 Mr. Yannis Pierros
EY Greece and EY Central, Eastern and Southeastern Europe & Central Asia (CESA) Mobility Leader

Mr. Thanos Mavros
Partner EY Greece and EY Central, Eastern and Southeastern Europe & Central Asia (CESA) Supply Chain & Operations Leader

WEBINAR STRUCTURE


The webinar will consist of a brief presentation of ΕΥ study's key findings, followed by a Keynote speech by H.E. Mr. Kostas Karamanlis, Minister of Transport and Infrastructure. Then, a panel discussion with the participation of some of the key players from the transportation and logistics market will take place, closing with a live Q&A session. This webinar will be archived and available for replay on demand upon registration.

NOTE

* This webinar will be available for replay after the live broadcast.

Q&A SESSION - Submitting Questions

Participants can submit questions to the panelists prior to or during the event through the special feature on the event page, or they can email them to us at questions@capitallink.com.


Capital Link has initiated a series of webinars at regular intervals aimed to raise the profile of Greece as a business, investment as well as a cultural destination to the global community. The webinars feature experts who share their authoritative insight on a broad range of critical topics relevant to the economy, the business and investment as well as culture opportunities in Greece and the broader region. Capital Link is known for hosting top quality physical and digital conferences around the world as well as a series of webinars and podcasts on a variety of industry, finance and investment topics. Capital Link's events combine top informational and education content with rich marketing and networking opportunities.

For more information on webinar sponsorship opportunities, please email forum@capitallink.com or call +1 212 661-7566.
Capital Link : Your Link with the Global Investment Community
New York – London - Oslo - Hamburg - Athens – Limassol – Hong Kong - Shanghai – Singapore – Tokyo
www.capitallink.com - www.capitallinkshipping.com - www.capitallinkportals.com
www.capitallinkforum.com - www.capitallinkwebinars.com