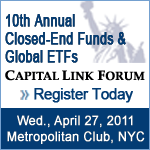 Exploring Opportunities in Latin American Equities
Exposure to an improving economic situation via a growing pool of well-managed companies
Presented by

THURSDAY, MARCH 17, 2011 11:00 AM ET

DURATION: 20 MINUTES FOLLOWED BY Q&A SESSION

LISTEN TO OUR EXPERT LIVE FROM YOUR OWN DESK

Free Download of the Powerpoint Presentation

Media Partner

Overview
Astute investors are recognizing the importance of exploring Latin American opportunities for a number of important reasons including:
Development of a more stable democratic process in many countries
Improved economic fundamentals, supporting long-term growth prospects
Vast natural resources and more orthodox economic policies
Growing, youthful populations with enhanced earning and spending power
A growing pool of well-managed companies, characterized by improved productivity, increased dividend payouts and attractive ratings.
Learn more about the Latin American investment environment from Nick Robinson, Head of Brazilian Equities, Aberdeen Asset Management Inc. Aberdeen believes that improved economic fundamentals, growing youthful workforces and a more stable democratic process in many countries support long-term growth prospects in the region. Aberdeen offers exposure to this important region through one of its flagship closed-end funds, Aberdeen Latin America Equity Fund, Inc. (LAQ).
Who Should Attend?
Broker-Dealers - Certified Financial Planners - Certified Trust and Financial Advisors - Closed-End Funds Issuers - Financial Advisors - Financial Media - Financial Planners - Hedge Fund Mangers - Index Providers - Institutional Investors - Insurance Companies - Investment Consultants - Lawyers - Pension Fund Managers - Prime Brokers - Private Banks
Featured Speakers:

Nick Robinson
Investment Manager Emerging Market Equities
Aberdeen's Global Emerging Markets Equity Team
Sao Paulo, Brazil
Nick Robinson is the head of Brazilian equities and a director of Aberdeen's operations in São Paulo. Nick joined Aberdeen in 2000 and spent eight years on the North American Equities desk, including three years based in Aberdeen's US offices. In 2008 he returned to London to join the global emerging markets equities team. Nick relocated to São Paulo in 2009. Nick graduated with an MA in Chemistry from Lincoln College, Oxford and is a CFA Charterholder.
Introductory Remarks by:
Mr. Nicolas Bornozis, President - Capital Link, Inc.
Q&A Session - Submitting Questions
Participants can submit questions to the panelist prior to or during the event through the special feature on the event page, or they can email them to us at
questions@CapitalLinkWebinars.com
.
The Webinar is organized by Capital Link, a New York-based Investor Relations and Financial Communications firm.

Registrants can download the PowerPoint Presentation from this webcast

A Free and Invaluable Resource





This webinar will also be available on demand at any time after the live broadcast
About Aberdeen Asset Management Inc.

Aberdeen Asset Management PLC, parent of Aberdeen Asset Management Inc., was founded in 1983 and has over $287 billion in assets under management. It has 1,800 staff, located across 30 offices in 23 countries and its managers follow an active investment style that is grounded in first-hand research and company due diligence. For more information on Aberdeen's closed-end fund capabilities, visit
www.aberdeen-asset.us/cef
.
About Capital Link

Capital Link is a New York-based investor relations and financial communications firm which among other activities maintains a strategic focus on Closed-End Funds and ETFs.
Capital Link has developed specific media, investor outreach programs and IR tools focused on CEFs and ETFs aimed to enhancing the profile of CEFs and ETFs among analysts, investors and the financial media.
In this context, Capital Link maintains websites dedicated to CEFs (www.CEFForum.com) and ETFs (www.ETFForum.com) that track the news and developments of all US listed CEFs and ETFs providing investors with a free information resource on these topics. The 10th Annual Closed-End Funds & Global ETFs Forum (www.CapitalLinkForum.com), considered a top industry annual event, will take place in New York City on April 27, 2011 and brings together investors, analysts, and CEF and ETF industry participants. Finally, Capital Link Webinars (www.CapitalLinkWebinars.com) is an open online interactive platform that hosts regularly webinars on CEFs, ETFs and other industry topics, such as the global economy and maritime shipping fostering better understanding of these topics in the investment community.
Achieve Maximum Visibility as the Exclusive Presenter/Sponsor of a Capital Link Closed-End Funds & Global ETFs Webinar
When was the last time you were able to talk to a global audience about your company's products and services? We can help you do that with one of our cost-effective, high-return Webinars.
The Capital Link Closed-End Funds & Global ETFs Webinar Series provides numerous live and on-demand playback investor webinars throughout the year focused on topics of contemporary interest in the industry. As a sponsor of one of these webinars, your company will provide updates and enlightenment on issues of importance while aligning your organization with the interests of our audience. Sponsors of these webinars receive recognition and exposure for their brand, as well as the ability to offer a white paper or powerpoint presentation at registration to webcast attendees to generate leads.
For more information on webinar sponsorship opportunities, please contact
Vincent Tricoli
at
vtricoli@capitallink.com
or call +1 212 661-7566.
Capital Link - New York - London - Athens

230 Park Avenue • Suite 1536 • NY • New York 10169, USA • Tel.: +1 212 661 7566 • Fax: +1 212 661 7526
Longcroft House,2-8 Victoria Ave, London, EC2M 4NS, U.K • Tel. +44(0) 203 206 1320 • Fax. +44(0) 203 206 1321
40, Agiou Konstantinou Str, Suite A 5, 151-24 Athens, Greece • Tel. +30 210 6109 800 • Fax +30 210 6109 801

www.capitallink.com • http://cef.capitallink.com • http://etf.capitallink.com
www.capitallinkforum.com • www.capitallinkwebinars.com • www.capitallinkportals.com